BreachCore Mod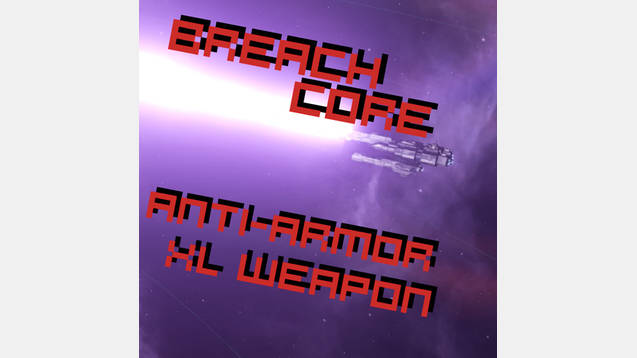 BreachCore Mod
PLEASE RATE AND FAVORITE IF YOU LIKE IT
Powerful and energy hungry XL weapon thar rips heavily armored ships to butter. Perfectly accurate, but very long time between firing so using it against corvettes is a massive waste.
Can be used by vanilla battleships, but at a massive cost to other systems.
Is a dangerous tech, and has the same effect when researched as the jump drive, aka making the unbidden show up to wreck your face earlier.
DAMAGE NUMBERS IN IMAGE IS WRONG
//LAST UPDATE//
>>Nerfed damage because I realized how ridiculous it is
//COMPATIBLITY//
Highly recommended to be used with a large ship mod such as UberDreadnought
Overwrites "crisis_events_2.txt" (it's not the end of the world if something overwrites my crisis file, but the tech loses it's danger aspect)
//TECH//
Researchable after you have darkmatter researched
//STATS//
>>XL
>>Cost = 2000
>>Power = -1145
>>Damage = 2000-3000
>>Shield Pen = 1.0
>>Armor Pen = 2.0
>>Cooldown = 800
>>Range = 120
>>Accuracy = 1.0
>>Tracking = 1.0
>>Has built in target selection AI to pick bigger targets
//WHAT DOES 200% ARMOR PEN MEAN?//
200% armor pen means that instead of doing X% less damage, you do X% more damage due to armor. So if you have 100 damage weapon without damage variance and hit a no-shield, 50% armor reduction ship, you will do 150 damage instead. Make sense?
//KNOWN BUGS//
The icon for the weapon looks weird (has black background) in the weapons picker, but looks perfectly fine everywhere else (ship designer or when looking at a ship in the fleet menu). This is due to the way .dds files handle transparency and is unavoidable but an extremely minor inconvenience.
//CREDITS//
>>Paradox for their game and their assets cause I am bad at art.
>>Proximal Flame and his story[forums.spacebattles.com] which was the inspiration for this weapon. Highly recommend.