Clean Space – No Exhaust Trails Mod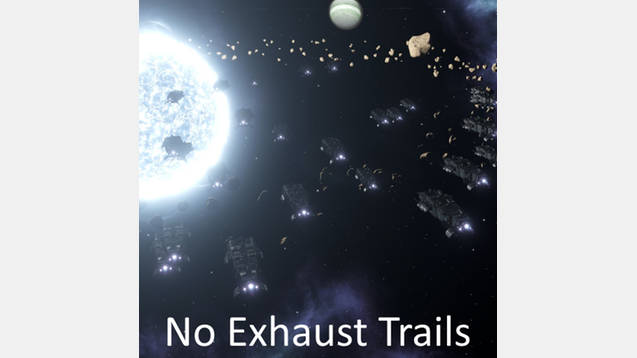 Clean Space – No Exhaust Trails Mod
Compatible with 1.6
This mod hides exhaust trails from ships.
My Other Mods:
Epic Galaxies – Larger sizes, adjusted shape and galatic cores.
Dark UI – A restyle of the UI.
Clean Space – Removes a lot of UI clutter in both galaxy and system views to create a clean, cinimatic look.
Asymmetric Starts – Better Advanced AI starts for variety and challenge.
Galaxy Texture 1
Galaxy Texture 2
Galaxy Texture 3
Subtle Hyperlanes
Colour Coded Messages – Coloured diplomatic, threat, and domestic messages.
Alernate Icons – Ethic, Civic and Trait icons recoloured.
I do this as a hobby so I'm happy for anyone to use my mods in any case, but I'm putting a donation link in case anyone wishes to help me upgrade my potato of a pc. Completely optional!