(-New Ship Classes & More: Streamlined -) Mod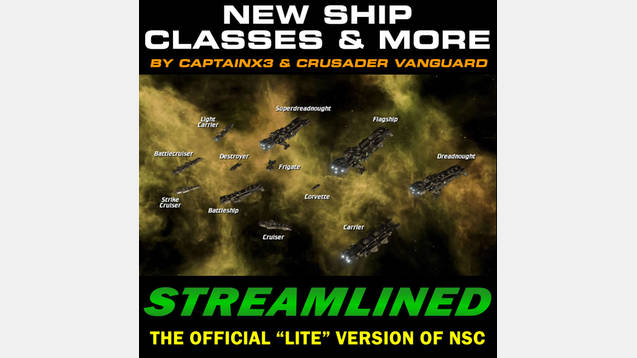 (-New Ship Classes & More: Streamlined -) Mod
This mod is the official "light" version of New Ship Classes & More. This version is for those who are looking for only the new ship and station classes and their associated techs and components, without the extra features offered by the original NSC. If you'd like the extra features, subscibe to the full version of NSC.
PLEASE READ THIS ENTIRE PAGE COMPLETELY. We will not be addressing questions that are already answered on this page.
DO NOT run this mod and the main NSC mod together. It will not work.
DO NOT run this mod on a save game that had the main NSC mod activated. You will very likely encounter major problems.
There will be no new features added to this mod that are not directly ship or station related. However, any changes to the ships/stations in NSC or introduction of new ships/stations will be copied to this mod.
Requests for changes to this version will be ignored. Take it as it is, or use the full version of NSC.
Almost all of the NSC Addon mods should work with this version, except any that are specifically made for the features not included.
Almost all of the NSC Compatibility Patches should work with this version, except any that are specifically made for the features not included.
All of the patches for additional shipsets will work with this version.
All of the language translations will work with this version.
All NSC Ship/Station Classes: All Balances, Overhauls, Additions, & Upgrades
All NSC Weaponry (The 3rd level XL/Kinetic Weaponry, Frigate Flak Chain)
All NSC Utilties (NSC Component Feature, Special Components, AUX)
NSC Strike Craft Rebalance
NSC Defines Formation Fixes
NSC Capital Ship Behavior Upgrades
NSC Advanced Construction Technique Technologies
NSC Ruler Traits for NSC Ship Classes
NSC UI adjustments (such as the color changes for the L/M/S Slots in the Ship Designer)
All Extra Playable Races
All Buildings
All Spaceport Modules
All Megastructures
NSC Playable Guardian Feature (including the Guardian Weapon bugfix)
NSC Mothball Feature
NSC AI Challenge Feature
Having trouble with the mod? Click on the link below to join our online Tech Support channel and chat with the mod developers live on Discord.
You can join our server and chat with us live in our Lounge, or post ideas and suggestions for us to read! Simply head to the link below to join.
July 21, 2017 – Update 1.1.0 – Oragnization, Choice, Compatibility Overhaul
New Save Game is HIGHLY RECOMMENDED
NOTE: The full list of changes is too long to fit on this page. See the full Change Log for details.
Added NSC Features Menu.
NSC Ship Parts Feature.
NSC is now much more save game friendly, allowing you to have all features of NSC up and running mid-game, however, we strongly recommend you do this near the end of a year, as this "need to update" is checked yearly.
Tweaked AI Ship Budgets
Changed Superdreadnought to have 4 XL weapons.
Added "XL Weaponry Upgrades" for Capital Ships.
Returned vanilla Mining/Research Stations to their weaponless state due to horrid targeting coding causing battle issues. Armed ones available in new Addon mod.
Increased the base Corvette price from 30 to 60 to bring it in line with other classes and hopefully reduce Corvette spam. To compensate at the start, NSC offers you 8 starting corvettes instead of the original 3.
Reduced the speed of the NSC Flagship slightly.
Utilized the fourth technology tier to make Flagship and Headquarters Station as "rare and unique" as they should be.
Added additional coding required to make NSC compatible with The Zenith of Fallen Empires mod. The Ship Compatibility Patch is still required.
Numerous random bugfixes and improvement tweaks, including removing the last of the vanilla localisation file overwrites.
NOTE: The localisation files have been changed in this update. Language translations will need to be updated to include the changes.