Playable Swarm Stellaris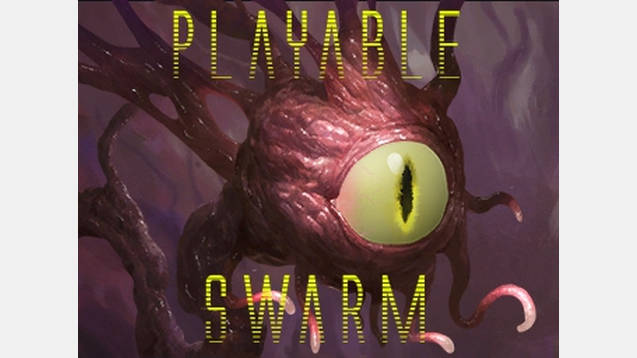 Playable Swarm Stellaris
This mod adds two traits for two different kinds of Swarm-style gameplay and has a bunch of Swarm-related features, including:
1. A custom Swarm species complete with a ship set, city, room, 2 name lists, and 31 portraits.
2. The Swarm Genetics trait, which does the following:
Unlocks Scourge Missiles, Scourge Acid Blast, Advanced Swarm Spawning Pools, and Infested World Buildings at the start of the game.
Adds an edict for immortal leaders.
Adds an edict for planetary infestation (does not work on tomb worlds or ringworlds). The new Tainted planet type has a new tileset and is best suited to species with the Swarm Genetics trait. This does not replace regular infested planets. To infest a planet, turn on the Planetary Infestation edict and do one of the following:
Have your ground forces successfully occupy your enemy's planet, and then choose the first option from the Planetary Infestation menu.
Successfully colonize a planet and then choose the first option from the Planetary Infestation menu.
Unlocks Tainted World Buildings, a tech that adds new buildings exclusively for use on the custom Infested world type.
Adds the Swarm Link policy, which gives your populations maximum happiness and ends your war with the Swarm, while also causing other empires to hate you. The Swarm must arrive before you can see the option to connect with it.
3. The Swarm Brood trait, which makes the player's empire even more like the Swarm and dramatically changes how the empire works. The player's empire starts out as the normal kind. Within ten days, the Prethoryn Vanguard arrives and the player's country type is changed to be like the regular Swarm. The Swarm country type has these features:
Does not generate any resources or research
Can no longer initiate contact with other empires
Instantly surveys unexplored systems upon arrival
Has the ability to infest planets with Infestors (but can't build structures on these planets)
Can travel anywhere and attack anyone
Gains Swarm fleets in waves
4. A total of 9 new ascension perks (3 for Swarm Genetics, 3 for Swarm Brood, and 3 for both)
The Swarm Genetics perks are:
Free Infestation – Replaces the Planetary Infestation edict with a new on that costs no influence and incurs no Infestation "tax" upon use
Improved Regeneration – Increases monthly ship hull regeneration by 10% and replaces the Biological Immortality edict with an improved version that costs no influence
Subtle Link – Changes the Swarm Link policy so that it doesn't make other empires hate you when you use it (does not work if the policy is already active)
The Swarm Brood perks are:
Stronger Enzymes – Increases kinetic and explosive weapon damage by 10%
True Swarm – Makes it so your yearly reinforcement fleet is as large as the one that the regular Swarm gets
Terror – Makes it so non-Swarm planets are given reduced happiness for 1 year after your fleets enter a system
The perks that work for both are:
Hunt the Hunters – Increases damage against Sentinels, the Shroud, and Extradimensionals by 25%
Improved Vision – Increases the weapons range of your ships by 10%
Subspace Echoes – Triggers the begininngs of the Prethoryn Scourge crisis (provided it hasn't started already)
5. The mod also adds a new Swarmling Fabrication technology that allows for the creation of cloned Swarmling workers (currently broken for Hive Mind empires). Requires Infested World Buildings tech.
6. Scourge Missiles now have different size options, so they can be used on more ship classes. The tech also unlocks Scourge Acid Blast weapons and a new Spaceport module.
7. A custom starting system with Tainted worlds.
8. A prescripted Prethoryn empire (not usable by the AI).
This mod doesn't replace any default files and should be compatible with other mods. The ship set is compatible with Stellar Expansion: Voidcraft's custom ships.