Useful Stations – Version 2.0 Citadel Included Stellaris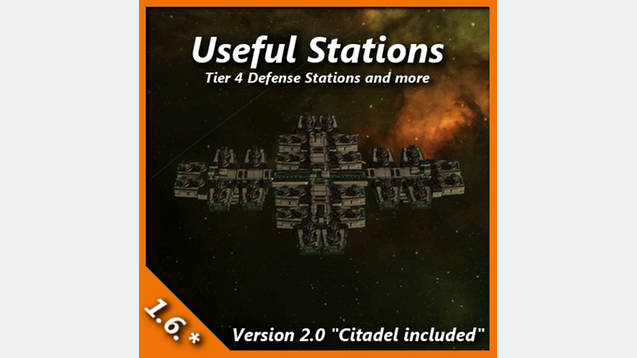 Useful Stations – Version 2.0 Citadel Included Stellaris
This Mod adds new tier 4 and 5 Defensive Stations, Defensive Satellites, Torpedo Sections for the Small/Medium/Large Defensive Station, 5 New Spaceport Modules and 7 new Technologies for the Player and the AI to use.
The Defensive Satellite has his own special Weapon with a Range of 300. It also can rotate around its axis allowing it to hit pretty much everything in the System. They are frail thou, so do not rely on them alone. They are best placed at the edge of the System with a Station with Supspace Snare directly above the Sun. Fleepower: Around 700
The Bulwark is the Tier 4 Stations added by this mod. Using them to surround a Citadel with it can make a Pretty effective defense formation. Fleetpower: Around 10000 – 13000 Depending on the setup.
The Citadel is the Tier 5 Station added by this mod. It is limited to One per Sytem. It has its own Auras, all having a radius of 1000 which makes them System wide. Fleetpower: 27000 – 35000 Depending on the setup.
Using all the Spaceport Modules added by this mod the Orbital Station will have around 6000 Fleetpower.
You do NOT have the permission to use ANY of my work to make your own Mods. Please ask first. Thanks 🙂
The Stations:
Citadel:
Hull = 80000
Armor = 88 (50%)
Shield = 1000
Shield Recharge = 18.0
Bulwark:
Hull = 40000
Armor = 88 (50%)
Shield = 1000
Shield Recharge = 18.0
Defensive Satellite:
Hull = 1000
Armor = 35 (50%)
Shield = 1500
Shield Recharge = 18.0
Rotation Speed = 25
Sections:
Citadel:
Large Weapon Section: 6 Large Weapon Slots
Hangar Section: 6 Hangar Slots
Medium Weapon Section: 12 Medium Weapon Slots
Torpedo Section: 12 Torpedo Slots
Mixed Weapon Section: 6 Medium Weapon Slots, 6 Torpedo Slots
Small Weapon Section: 10 Medium Weapon Slots, 4 Small Weapon Slots
Point Defense Section: 10 Medium Weapon Slots, 4 Point Defense Slots
Bulwark:
Large Weapon Section: 3 Large Weapon Slots
Hangar Section: 3 Hangar Slots
Medium Weapon Section: 6 Medium Weapon Slots
Torpedo Section: 6 Torpedo Slots
Mixed Weapon Section: 3 Medium Weapon Slots, 3 Torpedo Slots
Small Weapon Section: 3 Point Defense Slots, 9 Small Weapon Slots
Defensive Satellite:
Satellite Core: 1 Extra Large Weapon Slot
Spaceport Modules:
Reinforced Plating: Armor +75, Hullpoints + 13500 | prerequisites = Durasteel Armor | Cost = 1000 Minerals | Maintenance = 3 Minerals per Month
Battle Simulations: Fire rate + 25%, Weapon Damage +50% | prerequisites = Spaceport Battle Simulations | Cost = 500 Minerals, 750 Energy, | Maintenance = 5 Energy per Month
Trained Repair Crew: Monthly Hull Regeneration +5% | prerequisites = Doctrine: Trained Repair Crew | Cost = 400 Minerals, 100 Energy, | Maintenance = 2 Minerals per Month
Orbital Antimatter Collection: +7 Energy | prerequisites = Antimatter Reactor | Cost = 300 Minerals, | Maintenance = 2 Minerals per Month
Automated Assembly Yards: +20% Ship Build Speed, -10% Ship Build Cost, Ship Modifier: -5% Upkeep | prerequisites = Automated Assembly Yards | Cost = 1000 Energy, 1000 Minerals, | Maintenance = 5 Energy and 5 Minerals per Month
Technology:
Defensive Technology Miniaturization: Cost = 2500 Engineering research, prerequisites = Deep Space Station
Defensive Satellite: Cost = 4000 Engineering research, prerequisites = Defensive Technology Miniaturization
Bulwark: Cost = 5000 Engineering research, prerequisites = Fortress
Citadel: Cost = 6500 Engineering research, prerequisites = Bulwark
Doctrine: Trained Repair Crew: Cost = 3500 Society research, prerequisites = Doctrine: Fleet Support, Spaceport Level 4
Spaceport Battle Simulations: Cost = 4500 Physics research, prerequisites = Administrative AI, Spaceport Level 6
Automated Assembly Yards: Cost = 3000 Engineering research, prerequisites = Battleship Assembly Yards
Compatibility:
There should not be any compatibility issues. If you find any please report them to me and I will try to fix them.
This Mod does Not overwrite any Files.
Mod Support:
A compatibility Patch for Ship Power Stations can be found here: http://steamcommunity.com/sharedfiles/filedetails/?id=918494157
Known Bugs:
Auto generated Station designs sometimes dont have a name.
Sometimes the Game does not auto-generate a Design for the Stations. In that case just click on "New Design" and make one yourself 😉
Localisation:
English – Complete
German – Complete
Russian – Complete
French – No Translation yet (Uses English)
Portuguese-Brazil – No Translation yet (Uses English)
Polish – No Translation yet (Uses English)
Spanish – No Translation yet (Uses English)
Simplified Chinese – No Translation yet (Uses English)
Japanese – http://steamcommunity.com/sharedfiles/filedetails/?id=1096841652
Special Thanks:
To Killy84: For providing the initial German Translation.
To greenpinkredfire: For providing the initial Russian Translation.
To asimbiox: For providing the Russian Translation for Mod Version 2.04.
To mikaduki: For providing a Japanese Translation.
Why not check out my other Mods? Just take a Look at the Collection at the top of the Page 🙂