00 Dismantle Megastructures Mod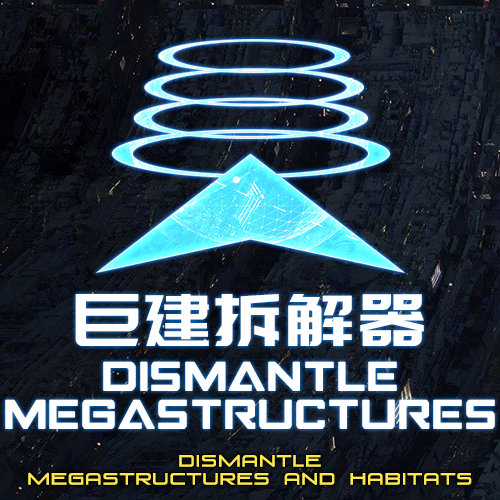 00 Dismantle Megastructures Mod
Dismantle Megastructures Standalone <English localisation integrated>
巨建拆解器 独立版
If this is helpful, Rate, Favorite and Award!
å¦'æžœä½ å–œæ¬¢æˆ'çš"mod请务必 点赞 æ"¶è— 奖励!
[Instruction]-This MOD allows you to acquire the ability to dismantle megastructures after unlocking "Megastructure Engineering Technology". This feature can be enabled through the decision of stars or habitat structures.
-A megastructure takes 1 year to dismantle, while the habitat only takes 6 months. Part of the energy and alloy will be recovered while dismantling.
-Included in , this mod is a standalone version, and the FX may be a little different.
-should be compatibile with GIGA engineering and all mod add new megastructures.
-L gate cannot be dismantled [说明]-这个MODå…è®¸ä½ èŽ·å¾—"巨构工程科技"以åŽèŽ·å¾—拆解巨建的能力, 通过æ'星或者轨é"æ –æ¯åœ°çš"决策开å¯è¿™é¡¹åŠŸèƒ½.
-巨建需è¦1年的时间拆解, è€Œæ –æ¯åœ°åªéœ€è¦6个月, 拆解的åŒæ—¶å°†å›žæ"¶éƒ¨åˆ†èƒ½é‡ä¸Žåˆé‡'.
-已包å«åœ¨, æ­¤mod是独立版本, 特效会与框架版有所ä¸åŒ.
-与更多巨建å'Œæ‰€æœ‰æ·»åŠ 巨建çš"mod兼容
-Læ˜Ÿé—¨æ— æ³•æ‹†è§£
Major mod conflicts cleaner. <æ ¸å¿ƒmod冲çªæ¸…除器>
—
Infinite Graphic Collection <å°ä¼žç¾ŽåŒ–包系列>
—
—
Supreme crisis manger and crisis expansion. <超级天ç¾ç®¡ç†å™¨ä¸Žå¤©ç¾æ‹"展>
—
Optimizing late game performance. <优化åŽæœŸæ¸¸æˆé€Ÿåº¦>
—
—
—
Please consider donating at for me, an busy and enthusiastic modder. It's really really hard to maintain all these mods since life is tough for me and spare time is short.