A Better Diplomacy (Opinions) Stellaris Mod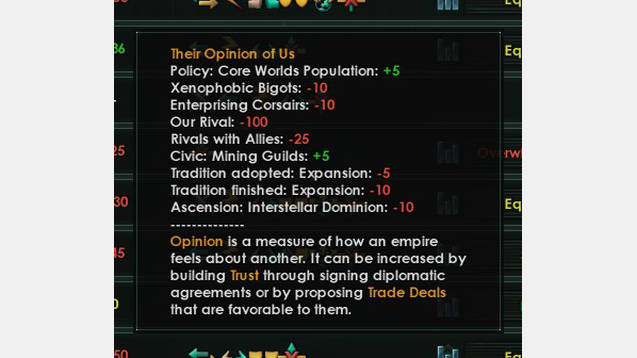 A Better Diplomacy (Opinions) Stellaris Mod
First of all to be clear: this mod does not add new diplomatic options!
BUT:
This mod makes the diplomacy mechanic of the AI opinion more interesting.
Did you ever wonder, why the AI doesn't care what you think about refugees? Or about your first contact protocol?
Or why do civics not matter? Shouldn't pacifists fear your Warrior Culture?
Shouldn't everyone hate you, if you go for the domination tradition tree?
This mod fixes all these problems!
=== CONTENT: ===
– rebalances some opinion impacts (for example: Ethics are a bit more important)
– introduces opinion impact of (some) Civics
– introduces opinion impact of having the same Civics (just like having the same Authority already does)
– introduces opinion impact to almost all Policies
– introduces opinion impact of Traditions
– introduces opinion impact of Ascension paths and some other Ascension perks
=== Known issues: ===
currently none I guess
=== Compatibility: ===
– can be activated during playthrough
– needs Utopia (maybe it does work without it, haven't tested it)
– should work with but doesn't support new civics/traditions/ascension perks/etc. you get the idea (BUT new traits etc. should work) Exceptions are listed below:
– does support the More AI Personalities mod
– does support the Plentiful Traditions mod
Overwrites both files in commonopinion_modifiers and the modifiers_l_english.yml loc file.
Please provide (balance) feedback!
Also give this mod a like, if you like it. <3