Additional Traditions – Expanded For for Stellaris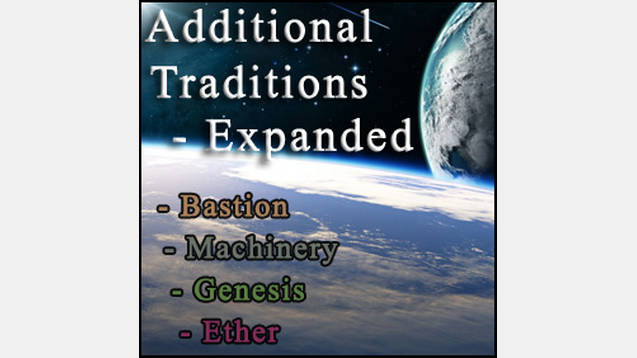 Additional Traditions – Expanded For for Stellaris
Additional Traditions – Expanded v0.8.8 (Open Beta)
For Stellaris: 1.6.*
Next scheduled update: 16 June (v0.9.3)
Useful links:
Additional Traditions
Additional Traditions – Expanded (20 AP patch)
Merged Traditions (Сompatibility patch with other tradition mods)
WARNING:
This mod is still in Beta stage and is subject to constant changes and balancing with vanilla Stellaris content! There may be bugs and typos.
This mod adds 4 more trees for Additional Traditions mod:
– Bastion
– Machinery
– Genesis
– Ether
Build-in Localizations: English, Russian
Separated Localizations: German
Changelog:
0.8.8 – major rebalancing, localizations are added
0.8.0 – initial upload (open beta)
Credits:
This expansion together with original mod is based on Birdy's Plentiful Traditions template and was heavily inspired by Maethydd's Expanded Tradition Choice. So a big thanks to them, and feel free to check their mods if you don't agree with this vision on traditions!
Thanks to greenpinkredfire for big help in making full Russian localization!
Thanks to Geki for uniting this mod with other tradition mods in Merged Traditions!
Compatibility
This mod creates a bunch of it's own files and overwrites:
interfacetopbar_traditions_view.gui
It should be compatible with any other mod that do not touch that file.