Adjusted Tradition Tree Adoption Costs Mod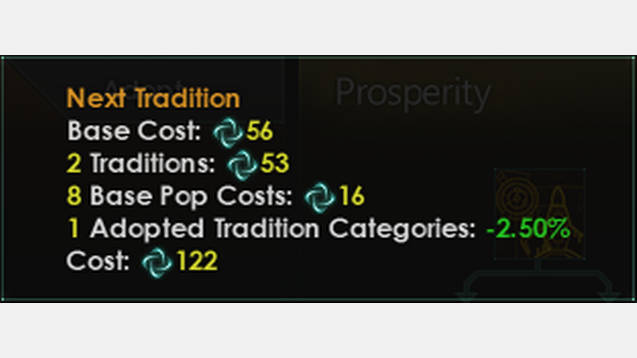 Adjusted Tradition Tree Adoption Costs Mod
eady for 1.6.1
This mod removes the stacking 10% increase to tradition costs for each adopted tradition tree, instead replacing it with a 2.5% reduction to costs.
I found the stacking increase to tradition costs to be very limiting, particuarly in games with mods that added a lot of tradition trees, such as Plentiful Traditions. My original intention was to simply remove the costs, but after consideration I decided to replace it with a 2.5% reduction to help balance out the loss of the Symbols of Unity building also removed in the 1.6.0 patch.
Of note : When used alongside my other mod 'Starting Traditions', that mod will give you a little more unity than needed for your first two tradition picks, as it is calibrated for use with vanilla tradition costs. (Garrus helped with said calibrations, I'm sure.)
This mod is mutually exclusive with its above twin.
Thanks to Dizzy Bat and Tigercat for pointing out the late game issue of free traditions, and some balance testing.
Personally, I use the mods in the Stellaris HR Group Mods, curated by Kida, which any mods I make are designed to fit with. Feel free to give it a try and give us your opinions.
If you like my mod, please rate it up, it really helps out.
Thank you for taking an interest in my mod, and I hope you enjoy your Stellaris with or without it!
Also, if any of you want to hit me up for general chat, a game of stellaris, or something else, add me as a friend and say hello!