C.U.I.(3.1)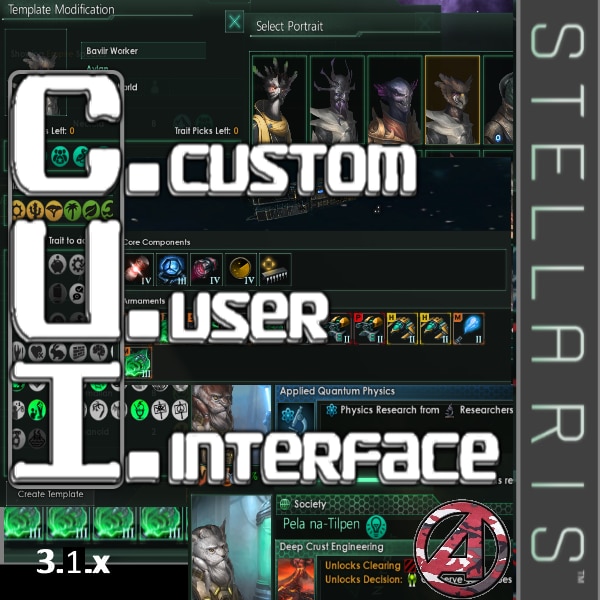 C.U.I.(3.1)
Improving UI Usefulness Probably
Useful stuff (probably):
Increases the size of the ship designer and ship viewer, to support NSC2's ships with many sections.
Increases the size of the gene modification window, to fit more traits, such as all the extra ones provided by GAPS: Traits.
Increases the number of portraits displayed when modifying species appearance, to support portrait mods.
Increases the size of tech data entries, to list more unlocks, such as those added by AlphaMod 3.1.
Includes UI support for resources in ESC.
Improves the clarity of information in galaxy view.
Developed for 3440×1440, with UI scaling set to 1.8. Feel free to try lower resolutions and different UI scalings, and report your findings and I'll see if I can make the UI changes more "dynamic" or sumfing. No promises.
Not ironpants cheev compatible. Should work fine with an existing save-game.
Does not require AlphaMod 3.1. Is compatible with AlphaMod 3.1.
Unlikely to play nice with UI overhauls.
LOAD ORDER
For best results put it at the bottom.
Files Modded
interface/mapicons.gui
interface/select_species_portrait_dialog.gui
interface/ship_designer.gui
interface/ship_view.gui
interface/species_mod_window.gui
interface/technology_view.gui
interface/waroverview.gui