Dead Space – USG Ishimura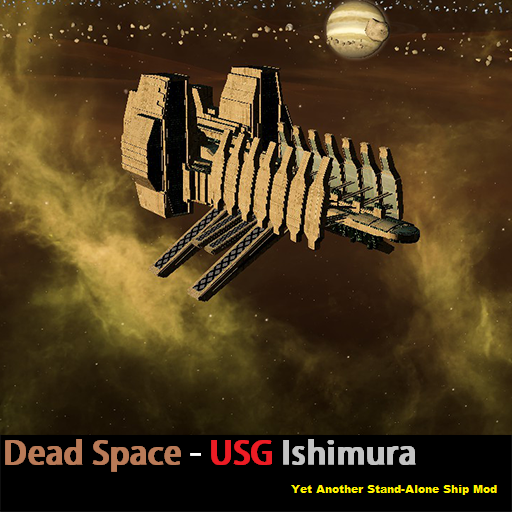 Dead Space – USG Ishimura
For Stellaris 3.0.*
Yet another stand-alone ship mod!
Turn that unpopulated planet or unhabitable planet inside your border into minerals or rare resources!
Adds a fully working USG Ishimura Planet Cracker Ship (Read everything and Notes before subscribing for this ship has specific Tech and other infos)
Features:
-Fully Working Planet Miner (Cracker Class – Dead Space Style – Not to be confused with Apoc Planet Cracker)
-A really weird animation (When mining a really small planet, the mesh from the animation sometimes doesen't reach the said planet)
-Can turn unhabitable planet into minerals
–Does not neeed: Ascension perk – Colossus but still need Apocalypse DLC due to weapon slot.
Planet Cracker Class
-Empire Limit = Base – 1 , Max – 10
-Works like a Colossus (Cannot be on a fleet)
-Tech requirements = "Tech Unhabitable Planet Core Mining"
-Uses 10 Naval Capacity
-Hull = 25k
-Armor = 10k
-Evasion = -50+
-Base speed = 45
-Estimated Cost of Alloys = 5k to 8k
-Building days = 360 ingame days
Requirements:
-Unhabitable Planet Core Mining Technology
–Requires both Tech Mining 3 and Tech Mineral Purification 2
NOTES:
-Can turn specific type of planets into mineral veins with a rare chance of some rare resources.
-Planet mining takes 1 and 1/2 year to complete (For balance purposes)
-List of Popable/Minable Planets:
–Molten, Barren, Cold, Frozen, Toxic, Habitable Planets with NO COLONY. (THIS IS NOT FOR GENOCIDAL PEOPLE, THIS IS FOR PEOPLE WHO JUST WANT MINERALS)
-Alot of unused script inside the mod files are for future update such as relics and mini necromorph invasion. (Currently too busy IRL so this is on hold)
Too OP?
-Mod is design to be used with other mod that enchance AI like below:
My Stand-Alone Ship mods:
Credits:
-3d Warehouse (sketchup) – Original: USG Ishimura (colored) – Zilla517 – Modified by yours truly to match certain Ishimura arts.
Support:
If you like my work, I do accept donations!