Immersive Galaxy – Planet Variety, LITE Mod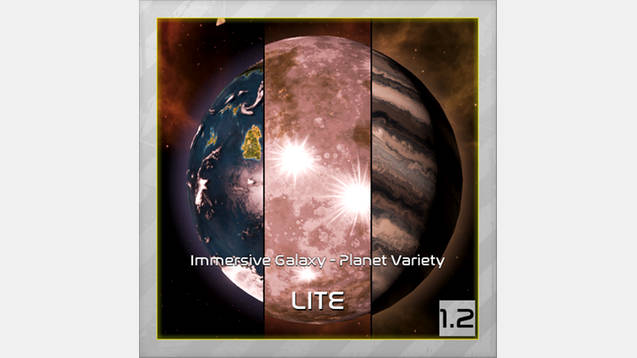 Immersive Galaxy – Planet Variety, LITE Mod
LITE pack is designed for computers struggling with the original mod. This mod and the base one make a total of 1.1 Go, compared to 1.9 of the mega packs, and 3.7 of the V1.0. Contains around half the content of inhabitable & unhabitable packs.
The mod is completely save game compatible, you can activate/deactivate the mod without any impact, the game will take care of swaping textures/entities. A new game is required to have the textures applied.
For older saves, you can use my save game enabler to apply textures on pre existing games, please read the desc before using it.
This mod, as it stands, should NOT conflict with ANY other mod. Go to base mod for more information.
Ironman compatible
Achievement compatible.
1.1:
– Cut down some variety to reduce file size.
– Added 4 shielded planets to this pack.
– Added 6 toxic planets to this pack.
– Further optimized by applying DXT1 compression to diffuse textures. (saved around 100 Mo)