LOGH Flagships for NSC Mod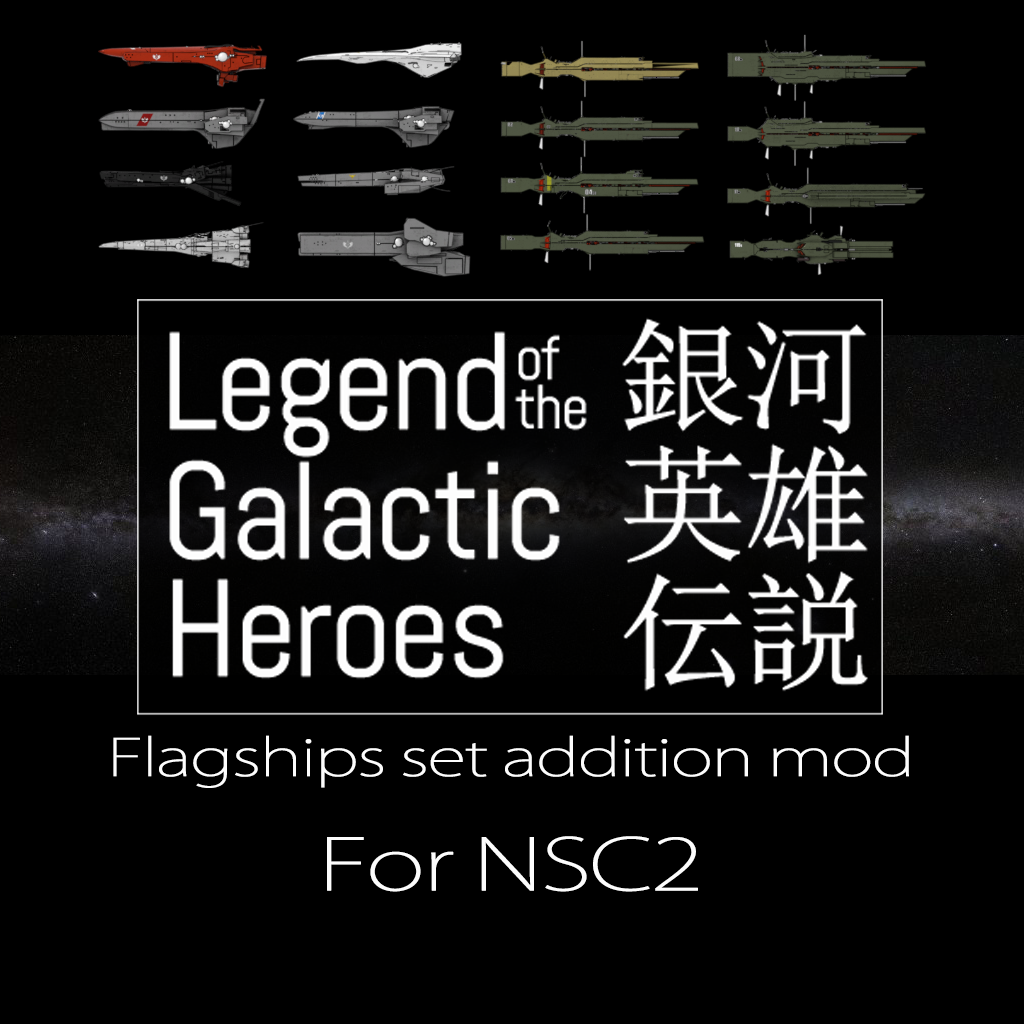 LOGH Flagships for NSC Mod
ã"ã®MODã¯éŠ€æ²³è‹±é›"ä¼èª¬ã®æ——艦ã''è¿½åŠ ã™ã'‹ãƒ'ッãƒMODã§ã™ã€'
ã"ã®MODå˜ä½"ã§ã¯å‹•ãã¾ã›ã'"。
以下2ã¤ã®MODãŒå¿…è¦ã§ã™ã€'
・Legend of Galactic Heroes Ships MOD
・(-NSC2 Season5-)
NSC2を使用ã—ã¦ã"ã'‹æ–¹ã¯ã"ã¡ã'‰ã®MODを使用ã—ã¦ä¸‹ã•ã"。
Vanilla版ã®ãƒ'ッãƒã¯å¿…è¦ã'ã'Šã¾ã›ã'"。
・NSC2ã«ç™»å ´ã™ã'‹Flagshipã¨ã¯åˆ¥ã'¯ãƒ©ã'¹ã§ã™ã€'
・LoGH_Flagshipクラスã¨ã—ã¦ç™»å ´ã—ã¾ã™ã€'
・ã'¿ã'¤ã'¿ãƒ³é€ 船所ãŒå¿…è¦ã§ã™ã€'
・XL武器ãŒé–‹ç™ºæ¸ˆã§ã'ã'‹å¿…è¦ãŒã'ã'Šã¾ã™ã€'
・艦隊許容é‡ã«å¯¾ã—ã¦å»ºé€ 出æ¥ã'‹æ•°ã«åˆ¶é™ãŒã'ã'Šã¾ã™ã€'
・性能ã¯ã'¿ã'¤ã'¿ãƒ³+αã§ã™ã€'
——————————————————————
MODã®æ›´æ–°ã«ã¯å"力ãŒå¿…è¦ã§ã™ã€'
Request to continue to update MOD.
——————————————————————
This MOD is a patch MOD that adds the flagship of the Legend of the Galactic Heroes.
This MOD does not work on its own.
The following two MODs are required.
Legends of Galactic Heroes Ships MOD
(-NSC2 Season5-)
If you are using NSC2, please use this MOD.
The Vanilla version does not need a patch.
This is a different class from the Flagship that appears in NSC2.
It appears as a LoGH_Flagship class.
The Titan shipyard is required.
The XL weapon must be already developed.
There is a limit to the number of ships that can be built against the allowable amount of ships.
The performance is titan + alpha.