More Frecuent Observation Events Revived Mod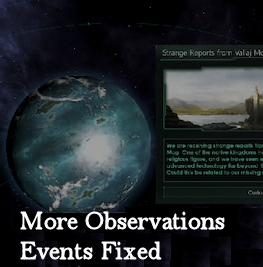 More Frecuent Observation Events Revived Mod
Fixed the original mod to give compatibility with latest version v2.7.*.
Files modified:
– eventsobservation_events.txt
*(Used the new v2.7 file and applied the changes to reduce the time for the observation events).
Description:
Some observation events are incredibly rare. This is a simple mod that changes the mean time to happen (MTTH) for some of the observation post events. In my testing, suddenly I experienced primitive observation events I haven't seen before!
The following vanilla primitive events have had their MTTH changed from 5000 months to 600 months so as to actually experience the observation post event that is in the original game.
– Missing Scientist (god-emperor of the primitives)
– Shuttle Intercepted Chain
– Smuggler Outpost
MTTH from 720 months to 360 months
– Quick Learning Primitives
– Slow Learning Primitives
– Repugnant Primitives
– Natural Scientist Primitives
– Intelligent Primitives
– Ethics change events
Mod compatibility:
– Seems to work fine with More Events Mod:
– Seems to work fine with Overhaul UI.
Achievement compatibility:
– This is NOT achievement-compatible.
This mod is the same than the previous mods:
Credits:
All credits to original authors: Ienzo and Sinistral