No Planet Glow for Stellaris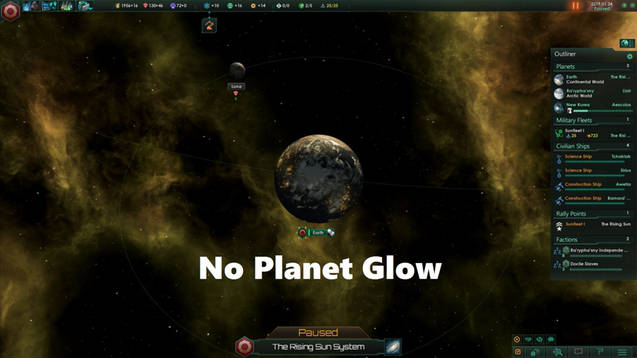 No Planet Glow for Stellaris
This minor graphical mod removes the "atmosphere" glows from all planet classes.
It's unfortunate that the vanilla atmospheric rim lighting is not affected by 3D lighting, and so ends up looking fake, 2D and "stuck on". This mod fixes that by removing this glow from all planet classes, and arguably making the system view look more realistic.
This is the same as my Clean System View mod, without removing the navigation arrows and orbit lines.
Updated to 1.5.1 Banks/Utopia.
Try my other immersion providing & gameplay mods :-
Remove Habitable Starting Planets
Natural Spiral Galaxies
Designable Stations
Clean System View