Simple Slower Than Light for Stellaris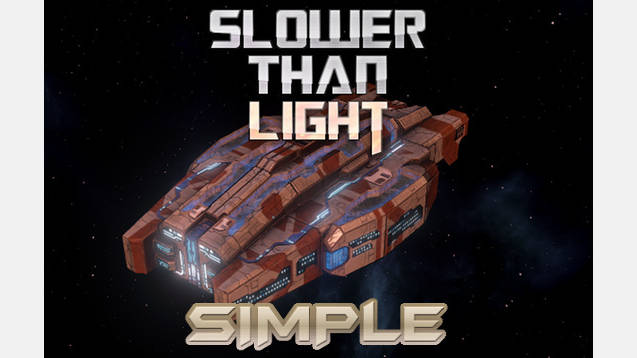 Simple Slower Than Light for Stellaris
An extensive Slower-Than-Light mod inspired by "Einstein was Right".
Mod Version 1.2
"Simple" Slower Than Light – A Define-Only version of Slower Than Light. It is designed to be compatible with as many mods as possible.
What is Slower Than Light?
Slower Than Light is a fairly extensive, yet simple, mod that makes pretty much all space travel in Stellaris take time equivalent to a slower-than-light method. It also goes in and re-names each of the three drives and replaces references to FTL to read as "Interstellar Travel" instead.
The way travel time works is by increasing windup and winddown times, and – For what was formerly Warp and Hyperlane travel – reducing the Galaxy Map FTL speed.
Conventional Drives (Formerly Warp Drives) are extreme-efficiency standard thrusters that push craft between stars
Gravity Lane Drives (Formerly Hyperdrives) utilize gravitational interactions between stars, and are a bit faster than Conventional drives.
Beamed Light Drives (Formerly Wormhole Drives) utilize a giant laser beam mounted on a station to provide the craft's propulsion. Like a solar sail, but more efficient and with giant lasers.
Jump Drives (Psi Jump Drives re-named to Jump Drive II) are "True" FTL drives, and while they may be slow on a galactic scale they are still faster than anything else! But be warned – they are just as risky as using them in regular Stellaris.
But wait! There's more!
Space is big. Slower-Than-Light travel makes it REALLY big. To make the game feel the new scale better, a few changes have been made:
Colony Ship Maintenance has been reduced to 1 Energy/Month
Science Ship and Constructor Ship maintenance has been removed
Debris stays around for 20 years instead of 5
Hyperlane Generation has been tweaked
Mod Compatiblity
Simple Slower Than Light only overwrites a number of lesser-used defines and should be compatible with most other mods.
Mod Version: 1.2
Updated to Stellaris 1.6
Supported Game Version(s): 1.6.*
Upload Date: 5/10/17
Take a look at my other mods:
Enhanced Science Ships – Customize your science ships to be more independent!
Mobile Interdictors – Subspace Snares that move with you!
Deadly Bombardment – For when you really don't like those aliens.
Slower Than Light – For when things just go to fast.