Stellaris+ [Armies & Attachments Module] v1.6 for Stellaris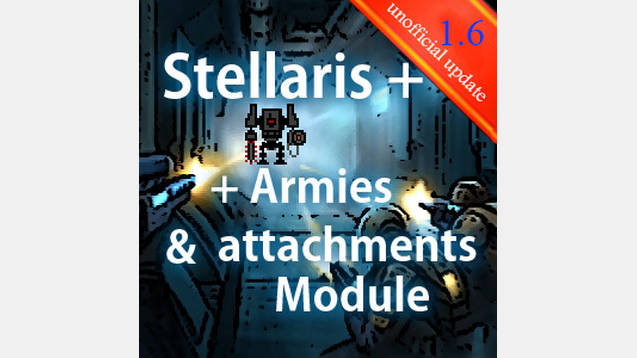 Stellaris+ [Armies & Attachments Module] v1.6 for Stellaris
Update №32.
This is unofficial update of Stellaris+ [Armies & Attachments Module] by Wolin. Unfortunately, the author of the original mod for a long time not updated, so I had to take matters into my own hands.
It is standalone mod.
In addition to the update of the following changes have been made:
– Armoured Division and Mech Squad(now Brigade) were returned to unoffical update. Mech Brigade requires Planetary capital or Empire capital-complex on planet. A planet can build a maximum of 6 Mech Brigades. Ascended synthetic empires have analogues of these armies;
– alien species in synth empires are called only as Legion of Cyber-Thralls;
– Robotic and Android armies require policy to resolve artificial intelligence. They can no longer use attachments, that, according to the laws of logic, are suitable only for living beings;
– some armies have exclusive attachments;
– replaced by a couple of icons for Attachments;
– replaced most of army icons (my art ©) – icons for each armies;
– light rebalance the planetary defense – at 100% fortification, divide damage to defending armies by 4, at 0%, full damage, without multiplying;
– Increased garrison health;
– added russian localization;
– a radical rebalance of primitive armies – for example Post-Atomic Army have 35k health;
– exclusive army tree path for player hivemind empire.
ATTENTION – After update №32 If you play for hivemind with old save – at you in a current of month begin to disappear standard vanilla armies – nothing can be done about it, will have to recruit new armies from mod. I honestly tried to make a trigger for automatic change of standard armies to armies added by me, but completely failed in this matter.
Planetary invasion is a heavy complex of measures.
Top screenshot (the value may be slightly different) is shows the damage and health of armies in mod.
For a more visual display of new icons of armies (some icons do not fit in a standard round) – I HIGHLY recommend the following mod:
C-Interface-Revenge of the quadrate
Compatibility:
Compability patch for AlphaMod 1.6 : !Stellaris+[A&AM] PATCH: AlphaMod
Compability patch for Guilli's Planet Modifiers : !S+[A&AM] PATCH: Guilli's Planet Modifiers – these two mods and so are completely compatible, simply raises characteristics of Guilli's armies
Compability patch for Stellaris + Evolved : !Stellaris+[A&AM] PATCH: Stellaris+ Evolved
This mod uses additive files but replaces some vanilla stuff for balance purposes, the files replaced are:
commonarmies0_armies.txt
commonarmy_attachments0_army_attachments.txt
gfxinterfaceplanetviewarmy_icon.dds
interfaceicons.gfx
In file "00_defines.txt" change the values of damage, morale, maintenance and hp for the armies, size of garrisons (will always be at least 4 garrison), dimensions of planetary fortifications, bombardment parameters*.
* – You can relatively safely use the mods that change only orbital bombardment – there should not be special nocompatibility. Mods, that change only lethality of bombardment for the population are fully compatible.
If you like the mod, go to page of original Stellaris+ [Armies & Attachments Module] by Wolin.
Future plans:
– reduction of morale damage
– adding icons for each type of species (this is if developers will go for such a change in engine)