Trace Empire Customisation Mod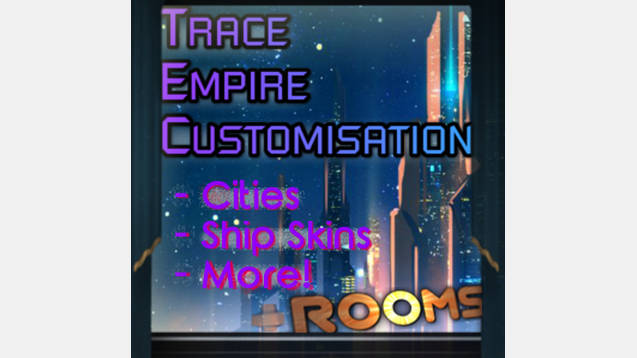 Trace Empire Customisation Mod
'TEC' is my gift to your custom empires, with DOZENS of vanilla-art-friendly rooms and cities!
Sequel to:
A few of you may remember my mod MCT. I took the main version down; It hurt because it was on the second page of Most Subscribed and got popular like three different times. But it had features I wanted gone like the cheap way of forcing galactic generation integration, so I took it down for absolute redux at version 1.6
Sorry for the delay to like half a year after planned release. Blame glitchy ships – no ship sets are finished, but I wanted to at least get them to a point where they don't crash the game on selection.
Originally I intended to release a pack of dozens of cropped backgrounds but Diverse Rooms got in first. In order to be unique and not compete with that mod, I'm now focusing on hand-edited and non-clipping rooms that fit the vanilla artstyle! They use both window (city view) and background styles.
Highlights include:
– 'Capitalist' background based on the old Individualist room
– Arachnoid room
– Mass Effect Kett room
– Underwater city room
– Cybernetic room
– Dark Spiritualist room
This mod is officially a redo and successor to my 'More City Types' mod that was on the popular page not once, but multiple times.
Highlights include:
– Factory city (like the unselectable industrial city, but without the brick house rows)
– Overgrown city (mammalian cities with the lights off, buildings covered in vines)
– Newcomers city (habitation and geodesic dome networks)
SHIPS ARE LOW PRIORITY AND WIP but I tested for crashes. Don't expect AAA-standard with lots of merged meshes and you'll be fine. Took me literally months to get these working at all, but one day there will be unique meshes and/or textures for all the city types included. Highlights include:
– Cultist (trying to imagine the event-spawned cults as an empire)
– Newcomers (a WIP style that looks low-tech and ragtag)
– Overgrown (mammalian ships with green windows and blotches independent of flag-based engine trails)
– Dirty (the old reskinned reptile theme has been redone into a dirty pirate culture)
// I WILL BE ADDING MORE, FIXING ANY BUG I CAN AND FINISHING ALL INCLUDED FILES. //
This release is early, because bugfixing took like 5 months already, and it's become impossible to support the older mods. Enjoy!
See workshop threads below for complete features and plans!
Possible issues:
– I have New Ship Classes, it changes some ship models so I don't know if there's long-term bugs without it.
– New, empty species categories were added. I think I pushed them to the bottom of the list, but I'm afraid it's a necessary evil since the game is very rigid in thinking "1 city per 1 species group".
– Ships are very WIP, just focus on the cities and rooms for now!
Upcoming addons:
– TEC Halo
All Covenant species from the Halo franchise will get their own looks. I've talked with a creator of Sins of the Prophets, and intend to work alongside their mod, not against it.
– TEC Legendary Empires
In TECLE, the best community empires will become spawnable, unique-skinned prescripted empires with rooms and cities!!
I'll be taking requests and stuff soon, feel free to comment or do whatever.
No donation link, nothing asked of you – I want the game to be more diverse, and I want to share that with other players of this awesome game!
Mod compatible. Not achievement compatible I think.