Immersive Galaxy – Planet Variety, Uninhabitable planets Mod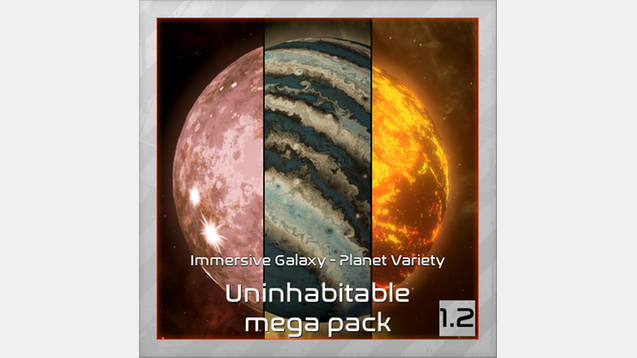 Immersive Galaxy – Planet Variety, Uninhabitable planets Mod
In an effort to make this mod easier to subscribe, this "mega" pack contains all the uninhabitable planets, namely :
Base mod is required and the other "mega" pack (inhabitable planets) is strongly recomended, you may find them here:
If your computer can't run these properly, I suggest you try out the LITE mod, which sacrifice a bit of variety for enhanced performance:
For any other information, please go to the base mod
1.2:
– New Toxic planets, 11 new planets added to the existing 4.
– New Shielded planets, 4 new planets added to unique one.
1.1:
Optimization:
– Clouds cut down to 4K for diffuse, 2K for normal, and 1K for shadows (was mistakenly in 8K, should greatly improve performance).
– Clouds texture variety down, from 35 to 15.
– Base mod size down to 210 Mo (from 1500 Mo).
Various :
– Clouds entirely redone, they're more aesthetically pleasing with more transparency.
– Tomb world variety now 10 (was 6).
– Made some planet packs standalone (barren, cold barren, molten, gas giant & tomb).
– Renamed textures to enhance mod compatibility.
– Save game enabler available, to put new texture on a old save.
– Lite version released, half the textures for less powerful computers.