Turian Hierarchy-fixed and updated For for Stellaris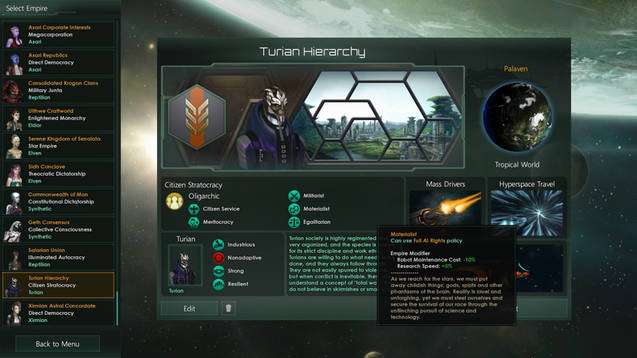 Turian Hierarchy-fixed and updated For for Stellaris
Another refurbished Mass Effect mod by Yoshy's Island. Credit goes to him.
Features:
– Turian portrait. Male only, unfortunately. He animated it though!
– Ethos: militarist, egalitarian, materialist
– Authority: Oligarchic
– Civic: Meritocracy, Citizen Service
– Traits: Industrious, non-adaptive, strong, resilient
note: It's kinda hard to put the complex Turian society into the ethical boxes we have, but the government definititon this combination has "citizen stratocracy" seems to work pretty well.
note2: Still needs Roman Namelist mod.
Credit:
Yoshy's Island for the original mod